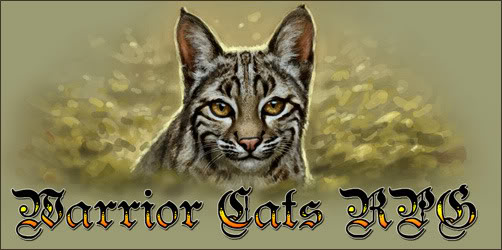 Welcome to Warrior Cats RPG, a free roleplay site! We're just starting off, so please consider joining the community! :)

Welcome to Warrior Cats the RPG! Feel free to post to the forums or create your own!
All Gatherings are postponed until we have a decent number of clan members for WindClan, ShadowClan, ThunderClan, and RiverClan.
| | |
| --- | --- |
| WindClan: Info+Registration | |

Author
Message
.:Eaglestar the Wise:.
Webmaster





Posts

: 222


Join date

: 2014-01-21


Age

: 17


Location

: New Jersey

Cat Character Sheet
Name: Eaglestar
Gender: Male
Personality: Calm and serious, sneaky and careful.


Subject: WindClan: Info+Registration Wed Jan 22, 2014 5:27 pm

---

WindClan
Leader:
No one
Deputy:
Played by ArtsieArtie: Spiderbranch; male
Medicine Cat:
No one
Medicine Cat Apprentice:
No one
Warriors:
Played by .:Eaglestar the Wise:.: Falconleaf; male
Apprentices:
No one
Queens
Played by ArtsieArtie: Fawnspots; female
Kits
No one
Elders
No one

Welcome to the WindClan topic! I will post all joins and the users they are played by. After you have joined, you can post in any of the forums below. All spaces need to be filled.

NO ROLE PLAYERS MAY HAVE MORE THAN ONE IMPORTANT ROLE.

If a leader is offline, without telling us that they're going to be offline, for more than 2 weeks, their character will be killed and the deputy will step up. Here is the form for registration of your character:

~Form~

Name:

Gender:

Rank (apprentice*, medicine cat*, med. cat apprentice*, deputy*, leader*, warrior*, kit*, queen*, elder*):

Personality:

Look:

Other:

*This rank is open

**This rank is closed



Last edited by .:Eaglestar the Wise:. on Thu Jun 05, 2014 7:26 pm; edited 6 times in total

ArtsieArtie
Vole Stalker




Posts

: 106


Join date

: 2014-01-22


Age

: 16


Location

: Elizabeth,WV

Cat Character Sheet
Name: Sparrow
Gender: Male
Personality:


Subject: Re: WindClan: Info+Registration Fri Jan 24, 2014 1:51 am

---

Name: Fawnspots

Gender: Female

Rank (apprentice*, medicine cat*, med. cat apprentice*, deputy*, leader*, warrior*, kit*, queen*, elder*): Queen(Expecting)

Personality: Due to her upbringing as a rouge,she is often mistreated by some members of the clan,except her loving mate. She can be feisty at times,lashing out,but Spiderbranch is always there to cool her down.

Look: She is a light grey with several white spots running down her back,like the spots on a fawn. Her eyes are icy blue,like her parents.

Other:

Name: Spiderbranch

Gender: Male

Rank (apprentice*, medicine cat*, med. cat apprentice*, deputy*, leader*, warrior*, kit*, queen*, elder*): Deputy when there's a leader,until then warrior.  

 

Personality: If given the choice between going on a patrol and going alone,he would always go solo. He's rather quite,and doesn't talk to anyone else besides his siblings,mate,and close friends. Most of the time he is calm,and barely reacts to any form of teasing,but if you truly manage to anger him,things don't end well.

Look: A pure black cat with deep amber eyes.

Other: His mother was a medicine cat,Ivyvine. She was a silver tabby. His father was Spottedjaw,he had a sandy coat and a few white spots on his chin. He has 2 older sisters,Harespring and Dawnsplash,both having a sandy coat,like their father.

.:Eaglestar the Wise:.
Webmaster





Posts

: 222


Join date

: 2014-01-21


Age

: 17


Location

: New Jersey

Cat Character Sheet
Name: Eaglestar
Gender: Male
Personality: Calm and serious, sneaky and careful.


Subject: Re: WindClan: Info+Registration Fri Jan 24, 2014 9:50 am

---

.:Eaglestar the Wise:.
Webmaster





Posts

: 222


Join date

: 2014-01-21


Age

: 17


Location

: New Jersey

Cat Character Sheet
Name: Eaglestar
Gender: Male
Personality: Calm and serious, sneaky and careful.


Subject: Re: WindClan: Info+Registration Mon Jan 27, 2014 11:07 pm

---

I'll make a form just to make things interesting.

~Form~

Name: Falconleaf

Gender: male

Rank (apprentice*, medicine cat*, med. cat apprentice*, deputy*, leader*, warrior*, kit*, queen*, elder*): warrior

Personality: reckless, full-of-himself type, loves pranks- basically your typical college kid. He also gets all the girls  

 

Look: A striking handsome tom with piercing violet eyes and fierce orange fur; has a dark russet streak running down his back from his forehead to the near-base of his tail.

Other: mrp XD

Forest
Mouse Finder




Posts

: 32


Join date

: 2014-02-08



Subject: Re: WindClan: Info+Registration Fri Feb 14, 2014 1:48 am

---

~Form~

Name: RabbitStar

Gender: Female

Rank (apprentice*, medicine cat*, med. cat apprentice*, deputy*, leader*, warrior*, kit*, queen*, elder*): Leader

Personality: Brave, Strong heart, Extremely fast, Loving, Loyal.

Look:

Other:

.:Eaglestar the Wise:.
Webmaster





Posts

: 222


Join date

: 2014-01-21


Age

: 17


Location

: New Jersey

Cat Character Sheet
Name: Eaglestar
Gender: Male
Personality: Calm and serious, sneaky and careful.


Subject: Re: WindClan: Info+Registration Fri Feb 14, 2014 12:29 pm

---

Accepted, NOW WE'RE KICKIN'! All we need now are leaders and med cats for the other clans along with warriors and we've got us a real gathering!

Sponsored content






Subject: Re: WindClan: Info+Registration

---

| | |
| --- | --- |
| WindClan: Info+Registration | |